Dogs are welcome on Ridge to Rivers trails!
Here are a few ways you and your dog can be good trail users:
Know the leash restrictions for the trails that you are traveling on.  Failure to comply with leash restrictions may result in a fine.
Always carry a grocery bag or mutt mitt to pick up your pet's waste and deposit in trash cans – NO ONE ELSE WILL DO THIS FOR YOU.
Recognize the critical times of year for wildlife – winter through early summer – and be overly cautious with your pets.  A dog's urge to hunt vulnerable wildlife can be strong.
Keep pets from "hunting" birds on hillsides. Ground-nesting birds will leave a nest if disturbed and dogs will kill young birds not capable of escape.
Controlling your pet means keeping it from interfering with other trail users, or causing erosion by digging on hillsides or stream banks.
On-Leash Trails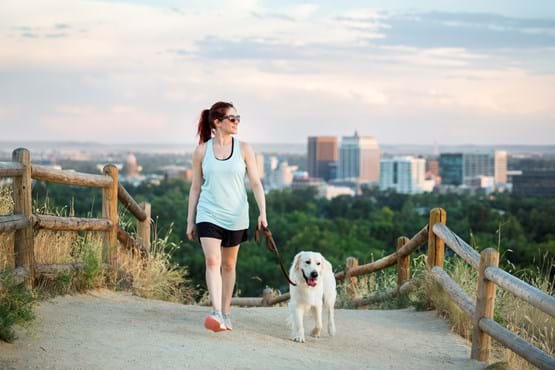 The following trails require you to have your dog on-leash at all times (all are clearly signed):
Controlled Off-Leash Trails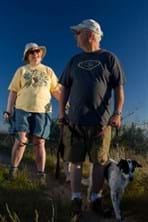 In "Controlled Off-Leash" areas, dog owners still must carry a leash and waste bag with them, and their dogs should not be further than 30 feet away at any time. Common sense and respect for others will go a long way in keeping this option available to you and your pet.
Keep pets leashed on the busy trails to protect them and other trail users.
Carry a grocery bag or mutt mitt to pick up your pet's waste and deposit in trash cans - NO ONE WILL DO THIS FOR YOU.
Become involved with groups who support being a responsible pet owner.
Now that you're all set to head out and practice your Responsible Dog Owner techniques, here's a few suggestions for you and your dog.
Pets and Wildland Safety
Our Foothills offer unique recreational opportunities for dog owners and their pets. Idaho Fish and Game Department and the Utah Fish and Game Department have collaborated to provide useful information for keeping your pet safe while traveling in wildlands throughout the state.