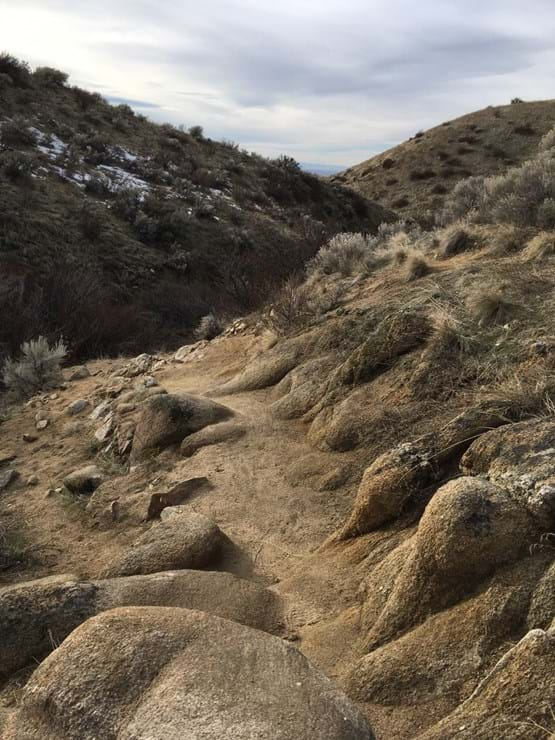 In the early 1990s concerned citizens, with the help of local and federal funding, spared Hulls Gulch Reserve from development. With Hulls Creek as the back bone, wildlife finds the area to their liking as well. Designed for flood control, the ponds at the end of 9th Street are a magnet for birds and other wildlife. Fencing around the large pond provides wildlife an area undisturbed by people and pets. To assure opportunities to view wildlife, please stay only on designated trails. Ongoing restoration efforts, on Camel's Back, protect native and rare plants (i.e. Aase's Onion and Arrowleaf Balsamroot) and rehabilitate steep hill climbs that have been eroding the landmark. Please give this area your help by staying only on the nearly 3 miles of designated trails.
A Few Nice Options
This hill is loved by many. The views from the top are stellar. The use of steep non-system trails, however, has killed grasses and native plants whose roots are the glue that hold the hill together. Restoration efforts include getting use off steep non-system trails and reestablishing grasses and native plants to keep the hill from eroding further. This will succeed only with your help. Camel's Back trails are Pedestrian Only and dogs must be on leash. Use only the designated trails.
Families can enjoy a variety of routes and loops using these trails. Various kinds of birds, fox and deer are spotted on occasion. The Grove is an area of native and exotic trees providing a nice shade alternate to the hot sagebrush environment of the foothills. The Ponds Loop is a perfect short walk for small children and provides a great opportunity for bird watching. Start at Camel's Back parking area or the end of 9th Street.
This is a great loop that will give you a taste of the Foothills.  Expect a moderate climb up Kestrel, followed by a wide, flat traverse of Crestline and a rocky, somewhat technical descent along Lower Hulls Gulch.  This is a very popular loop, and Lower Hulls Gulch has many blind corners.  Please ride responsibly if you are on a mountain bike.
Special Trail Management Strategy: Lower Hulls Gulch Trail #29 Odd/Even Separation of Use – On odd numbered days of the month, the trail is open to downhill bike traffic (trail closed to all other users). On even numbered days of the month, the trail is open to hikers and equestrians traveling in both directions and open to uphill mountain bike traffic (trail closed to downhill bike traffic).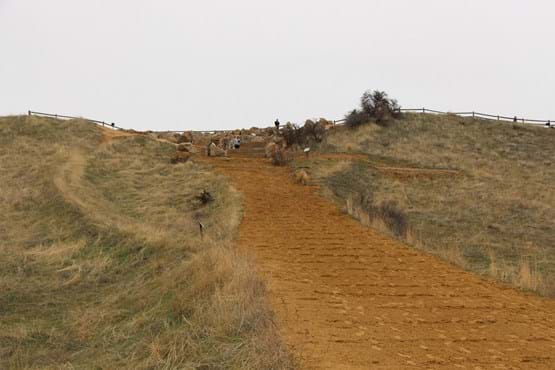 Trailhead Parking
This area can be reached from the east end of Camel's Back Park located on the corner of 13th and Heron Streets, from a small parking area at the end of 9th Street, or on 8th Street at the Grove Trailhead (.5 miles from 8th Street/Lemp intersection) and the Lower Hulls Gulch Trailhead (1.1 miles from 8th Street/Lemp intersection).