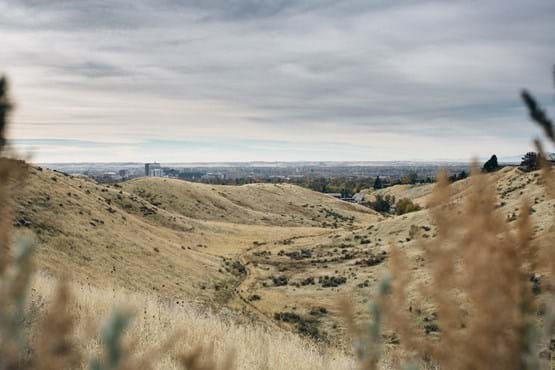 The Hillside to Hollow Reserve packs a lot of short trails into a relatively small area.  It is a 260-acre oasis of open space surrounded on all sides by Boise neighborhoods.  Views of Boise's north end and the Owyhee Mountains in the distance from trails on the south side of the Reserve are some of the best in the system.  The area is jointly managed by the City of Boise and the Land Trust of the Treasure Valley – both of whom own portions of the Reserve.
Trails in Hillside to Hollow tend to be a bit narrower than those found in other locations on the Ridge to Rivers Trail System, making them more popular with hikers and runners than with cyclists.  The Reserve – and particularly the Harrison Hollow portion, is one of the most popular places in Boise to walk or run your dog.  As such, plan to encounter plenty of friendly canines when you visit this area.
A Few Nice Options
Full Sail is the latest addition to the Reserve's trails.  Built in 2016, it links Hillside Park on the west side of the Reserve, with the numerous trails originating from the Harrison Hollow and Ussery trailheads.  It provides an easy, meandering experience just that looks out just above the north end treetops.
Harrison Hollow is mecca for dogs.  It is a gentle stroll up the drainage where you can expect to encounter many friendly regulars with their pets.  This trail contains a sand and gravel surface, allowing it to be useable when most other trails are not, due to muddy conditions.  Short loops can be made by returning via either Harrison Ridge #58 or Who Now Loop #51.  These trails are native surfaced and as such should not be used when conditions are muddy.
Trailhead Parking
Hillside to the Hollow Reserve can be accessed from a handful of locations. Hillside Park at 4150 N. 36th St. accesses the west side of the Reserve via Full Sail Trail #56. This trailhead offers ample parking, bathrooms and a cool, grassy park to begin and end your trail outing from.
On the east side of the Reserve, there is now a dedicated parking lot for trail users. The new trailhead includes a bathroom, a drinking fountain and dog watering station, bike racks, ADA accessible parking and 25 dedicated parking spaces for trail and reserve users.
Dogs must be on leash in both Hillside Park and the Harrison Hollow Lane trailhead parking lot. A much smaller parking area lies at the end of Ussery Street at the start of the West Climb Trail #55, allowing for 3-4 vehicles.