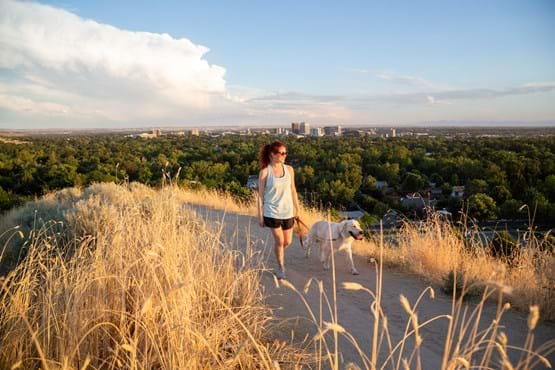 What trails are available for my dog and me? They all are! Simply head out, take a plastic grocery bag for dog waste, a leash and be aware of the rules and common sense of being a responsible dog owner. Being aware of the ways your dog can create problems is an important part of being a responsible dog owner.
Social conflicts include:
Not picking up your dog's waste along the trail.
Off-leash dogs scaring or conflicting with other trail users.
Environmental conflicts include:
Off-leash dogs scaring, harassing or killing wildlife such as ground nesting birds or wintering big game.
Digging holes and disturbing rare plant sites or stream banks.
On-Leash Trails
Several trails and trailheads in the Ridge to Rivers system are managed as on-leash. These requirements are designed to protect wildlife, riparian vegetation, or to minimize conflicts with other users in heavily visited areas. Failure to comply with leash restrictions on City of Boise property is a violation of Boise City ordinance and violators are subject to a $81.50 fine. Be aware that other jurisdictions (BLM, Ada County, IDFG, US Forest Service) may have different fines.
Hulls Gulch / Camel's Back Reserve
Western & Eastern Foothills Trails
Controlled Off-Leash Trails
The vast majority of Ridge to Rivers trails are managed as controlled off-leash.
Controlled Off-leash guidelines stipulate that:
Owners carry a leash with them at all times.
Dogs remain within 30 feet of owners, and under strict sight and voice control.
Dogs are prevented from harassing people, wildlife or other pets.